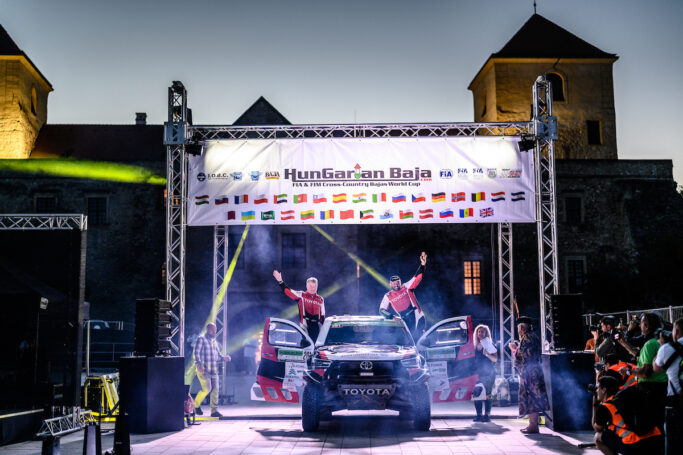 AL RAJHI AND ORR MAKE HISTORY IN WORLD CUP CROSS COUNTRY
Varpalota (HUNGARY): Yazeed Al Rajhi and Michael Orr made their first appearance at the Hungarian Baja, the sixth round of the World Cup FIA ​​for Cross Country Rallies Bajas, and finish the Hungarian Baja with the narrowest of margins in the history of the FIA World Cup for Cross-Country by a total time of 4:56:28. The same total time as his closest competitor, Polish veteran Krzysztof Holowczyc after 454 kilometers of competitive action over seven selective sections.
However, according to the World Cup FIA for Cross Country regulations, "in the event of a tie in one of the rounds, the competitor who records the fastest time in the first selective stage, so that it is not a qualifying stage, will become the winner of the rally."
After a long meeting which was discussed by the FiA stewards and representatives from both Overdrive Toyota and Mini X-raid, the stewards prevent handing Yazeed Al Rajhi the victory despite setting the fastest time in the first selective stage, which was the qualifying stage at the same time, the reason why AL Rajhi and Orr ended up the Hungarian Baja as runners-up. One of the closest battles in cross-country history.
The Saudi motorsport icon, Al Rajhi is pleased with the history he made in the World Cup Cross Country saying: "We have done everything we could and won, but the rules weren't on our side, but most of all we made history, the first-ever tie break finish in the World Cup for Cross-Country Rallies." Al Rajhi: "This was my first competition in Hungary, it was a challenging race at its highest level until the last selective section of the Hungarian Baja with the Polish veteran rival, I congratulated him personally, Krzysztof drove superbly, we're both winners." "I would like to thanks my strategic partner Toyota and Abdul Latif Jameel Motors for their unlimited support" he added.
On the other side, Michael Orr, said: "It was a good race, but at the same time "It was a good race, but at the same time I feel upset that the same total time finish didn't justice us after we tied the same numbers of hours, minutes, and seconds with our polish rival, but afterall, we made history in the World Cup for Cross-Country Rally." "We are happy with the great job we have done together, and with the speed we have, we are looking forward to the next race."