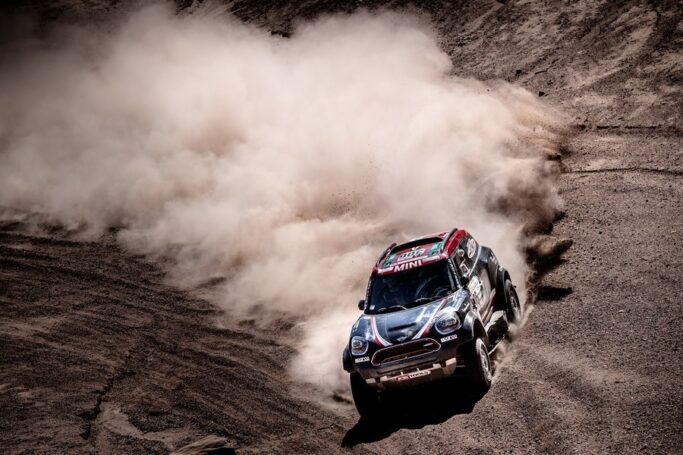 Dakar Rally 2017: Yazeed and Timo brought MINI to the ceremonial finish in Buenos Aires
Mission is accomplished even though Yazeed Al Rajhi and Timo Gottschalk were expecting more from the toughest race in the world. It was a very difficult Dakar and many people are saying the most terrible because of difficult weather, long days and nights in extreme conditions and tricky navigation. Two stages were cancelled due to the climatic conditions and landslide caused by thunderstorms. We showed that our MINI John Cooper Works was competitive from the start of the Dakar.

First three stages were running very smooth but stage four was the turning point because our guys left from the track and continue on the assistance road which brought twelve-hour penalty. This moment was the start of the fight for the best daily result only.

We should have to mention that Yazeed and Timo did a stunning job when they were "the best of the rest" and finished in 4th place in stage 10. The real drama and totally unpredictable race is over and became part of our racing history.
BLITZ QUESTIONNAIRE WITH YAZEED
How was Dakar Rally 2017 going from your perspective?
"In my point of view the summary sounds it was OK. Only I´ve got some healthy troubles because I came to Dakar with the flu and it was getting worse in 5 000 high altitude. There were a lot of sick people. We´ve got an upredictable obstacle in the third stage. It was very difficult for us. Despite of all we managed to finish stage 3 in sixth position overall.
After the penalty we were driving safely and smoothly, didn´t take too much risk with attacks, were enjoying the race and taking more experience from."
Except the high altitude, did you like this Dakar? Was it nice?
"It wasn´t so good as we expected. But we enjoyed this race. Some stages were very fast and damaged from bad weather, we were struggling with lots of water on the road, heavy rain and also were driven during thunderstorms. After cancellation of stage 9 we had a sightseeing tour of 670 km in Argentina. The best for us was definitely stage 10 where we finished "best of the rest" on P4."

And what about the car?
"I think the MINI is very good and was well prepared for us. It is a good point for MINI because the car is very strong! But honestly we still had no chance to beat the Peugeot. It´s impossible to compare two wheel drive = Peugeot with MINI. Let us surprise what the next year bring to us. It will depends on the new rules as well."
WHAT CO-DRIVER TIMO GOTTSCHALK SAID:
"Dakar 2017 gave us good and bad times, suffering with bad weather conditions and high altitude, we could only fight for good day results… But it was a good chance to improve and get ready for another long season! Anyway it wasn´t Dakar as we expected we made it to the ceremonial finish in Buenos Aires and keep our hope for a better one in 2018.

We´re proud to have guys from X-Raid Team because they gave their best every morning – I mean a perfect prepared car. Thank you for your professional work!"
Follow us!
Go follow us on Yazeed Racing Facebook, Twitter and Instagram. Thanks for your support.
2017 DAKAR RALLY – RESULT:

1st stage – 7.
2nd stage – 6.
3rd stage – 7.
4th stage – 49.
————————–START of the fight for good day results———————–
5th stage – 13.
6th stage – Cancelled because of the extreme climatic conditions!
7th stage – 8.
8th stage – 10.
9th stage – Cancelled due to a massive lanslide caused by thunderstorms!
10th stage – 4. ("best of the rest")
11th stage – 5.
12th stage – 17.