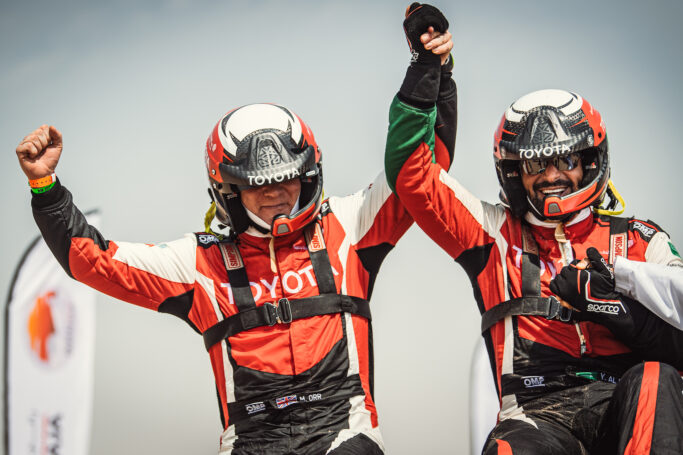 Michael Orr is not ready to participate in Andalucia Rally 2021
RIYADH: Yazeed Racing team will miss Irish co-driver Michael Orr's participation in the opening round of the 2021 FIA World Cup for Cross-Country Rallies, the Andalucia Rally, which will take place in Spain between May 12-16. Orr is not fully fit to take part in the Spanish rally as he continues to complete his last physical therapy sessions.
Yazeed Al Rajhi and Michael Orr were involved in an unfortunate accident in the second special stage of Sharqiya Baja last March and both suffered minor neck injuries.
Al Rajhi's medical team gave him the green light to return to the races after achieving complete recovery, while the Irishman will miss the Andalucía Rally and is expected to be ready for the Kazakhstan Rally in June.
The Saudi Motorsport icon, Al Rajhi, and Orr are great duo who have achieved amazing and historic results together since their participation in the World Rally Championship and in many different local and international rallies categories. The duo's last win came at the Dubai International Baja two months ago.
Michael Orr: I'm really disappointed that I can't participate in Andalucia Rally, and I was hoping to be ready to return quickly but my doctors have not given me the green light yet to jump into the car, I haven't completely recovered yet and I still have to complete my physiotherapy program, I'm sure I will come back stronger than before
Yazeed and I made a fantastic start together this season when we won the Dubai International Baja, but unfortunately, we had an accident in Baja Sharqiya
I am very happy that Yazeed has achieved a full recovery and that he will return to racing, I wish the team good luck and I'm sure they will fight to win the Andalucia Rally
Yazeed will miss Michael's assistance at Andalucia Rally but hoping for his return in june.
Yazeed: I wish Michael a speedy recovery and return to the races as soon as possible. We were supposed to continue our journey together, but unfortunately, he will not be able to participate with me in the Andalucia Rally because he is not ready to co-drive yet, but I expect him to return in the next rally.