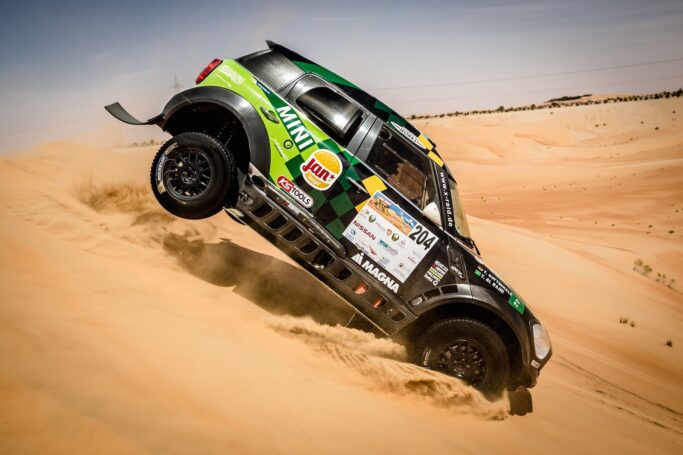 OiLibya Rally of Morocco 2016
FIA World Cup for Cross-Country Rallies – ROUND 8
October 1-7, 2016

Yazeed is ready to set racing fire in six-day rally of Morocco
Agadir (Morocco), 29.09.2016 – Yazeed Racing has begun with testing before round eight of the FIA World Cup for Cross-Country Rallies which starts in Agadir on Sunday October 2 and finishes at Erfoud on Friday October 7. Yazeed Al-Rajhi is highly motivated to go smoothly through the all 6 days with his MINI.

Yazeed Al-Rajhi:
"I´m feeling good and comfortable after holidays. Obviously I´m ready and excited about another race of this season. We have started with some testing and I´m satisfied because our car is very well prepared. Everything is going according to our plan. Can´t wait to give a battle with Rally of Morocco and get a new experience.
It will be interesting comparison with other teams especially with a new Peugeot. Buggy is a totally different story… Anyway everyone likes something different. I would like to win as usual.

Our car was made for the win and that´s also my mind set. I´m concentrate on to make the maximum and don´t hesitate to attack and fight everywhere. I´m looking forward to Marathon Stage because it´s a good preparation for Dakar. Depends also on tactics in this case. So I am curious about how we can handle that with my navigator because we have to fix all only by ourselves without any service car.
Morocco rally is an exceptional event with a good organisation and interesting track. I like the road book with very precise information. We will see what upcoming days bring back to me."
First two short stages of around 70 and 50 km are situated near the sea on Monday (October 3) and then the route heads straight to the Moroccan desert for four sections (291 km, 315 km, 319 km and 230 km) on October 4-7. Road book starts in Agadir and towards to a finish in Erfoud via world famous Erg Chebbi.

The Program OiLibya Rally of Morocco 2016:
Saturday, October 1: Administrative and technical checks & NPO ACADEMY Sunday, October 2: Official rally Press Conference & Super special AGADIR
Monday, October 3: SEASIDE STAGE
Tuesday, October 4: FROM OCEAN TO DUNES
Wednesday, October 5: ORIENTAL road
Thursday, October 6: Loop of ERFOUD
Friday, October 7, 2016: ERG of CHEBBI and arrival final – official Awards evening
Overall planned route is 1 882 km of which 1 317 km is situated in an inscrutable and exhausting desert terrain includes difficult navigation, rocky terrain and dune crossings.
How to watch OiLibya Rally of Morocco 2016
There is so much going on this weekend, surely it´s bound to be epic. It always is! Don´t miss any of the action and watch it all LIVE on http://rallyemaroc.npo.fr/en/.
The main pillars of OiLibya Rally of Morocco 2016 are competition, friendliness, professionalism and self-transcendence.
Follow us!
Go follow us on Yazeed Racing Facebook, Twitter and Instagram. Thanks for your support.
Yazeed Racing