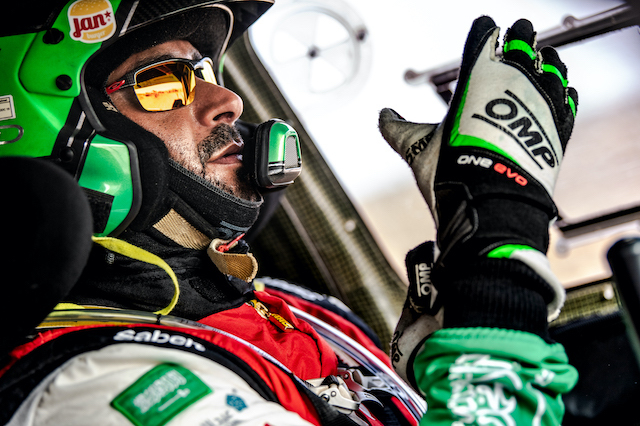 Reigning champion of Toyota Al-Rajhi to lead Toyota contingent in Rally of Andalucia
Saudi driver Yazeed Alrajhi and his co-driver are ready to take on the challenge of Rally of Andalucia
Riyadh: We head to the all-new Rally of Andalucia 2020, the first rally to be held after the COVID-19 global pandemic that broke out at the beginning of the year, the first edition of the Spanish Rally which was a "substitute" for Rally du Maroc will take place on October 7-10 and it is organized by Dakar's sporting director David Castera.
Yazeed Al Rajhi and his co-driver German co-driver Dirk von Zitzewitz are ready for the new challenge in Europe, in the south of Spain precisely. A place called Astonvilla which is based in the region between Seville and Granada.
However, Rally du Maroc was postponed due to the Corona pandemic which provides a perfect Dakar preparation, but this year, Andalucia took over to keep alive the spirit of the Rally Raid with a good old paper roadbook for motorcycles and an electronic road books for cars and trucks.
The event is based in the region of the same name between Seville and Granada. The itinerary includes a timed super special with 9 kilometers in total which starts at 8:50 in the morning on October 7th and four punishing selected sections from October 7th-10th with a total distance of 1260 kilometers of stages to be covered in total.
Note that, the 1st special (SS1) stage also will take place on the same day as the Super Special Stage (SSS).
Homeland boy who recently won the title of the local Saudi Toyota Desert championship and had the best finish in 4th place on his home soil Dakar 2020 will defend the colors of his team, the Overdrive Racing team will drive a Toyota Hilux ahead of a five-car team in next week.
Yazeed Al Rajhi: "I am completely prepared for this rally physically and mentally, especially after the rally was stopped about 7 months due to the pandemic of Coronavirus. Everything will be new and exciting for us; we are excited to explore a new route and terrain of the new rally as this rally will be a big challenge and a benchmark for evaluating the technical and physical level of the drivers"
"We have to find the harmony between the modern electronic roadbook and the terrain, after that, we will push ourselves beyond the limits to lead the stages "
"Up in the morning, the super special stage and the first stage will start both in the same day and we are ready for it, and I'm really delighted that Dirk will be my navigator as he bounced back for another thrilling rally together"
I would also like to thank my strategic partner Toyota and Abdul Latif Jameel Motors." Yazeed added
What a warm welcome from all of us here at Yazeed racing of the return of Dirk von Zetswitz who will sit beside next to our Saudi pilot after his crucial accident last year which prevented him to continue with Al-Rajhi throughout the 2019 season.
Dirk von Zetswitz: "First of all, I would like to thank Captain Yazeed Al Rajhi for the support he provided me last year throughout the time I stayed in the hospital after my operations. He helped me a lot and he was by my side throughout my recovery period"
"I am very proud that Yazeed has chosen me to sit beside him as a navigator at Rally of Andalusia right after my accident I'm really excited for my first race."
"since Rally of Andalucia is the replacement of the Rallye du Maroc due to coronavirus pandemic, I think it won't be the same but I'm happy that the organizers have done a very good job and we are excited for the race as I'm expecting a good race for us"
"It's great to have a race after a very long break before the Dakar Rally which it will be held in Saudi Arabia for the second time in January to test the new electronic roadbook and to be behind the wheels again"
"I can tell the Rally of Andalucia will have a very tough special stage, very fast and very close one between the compotators, I believe the fight will be very close in seconds, and that's a very interesting thing"
"About my preparation, I'm fully prepared and can't wait for it"