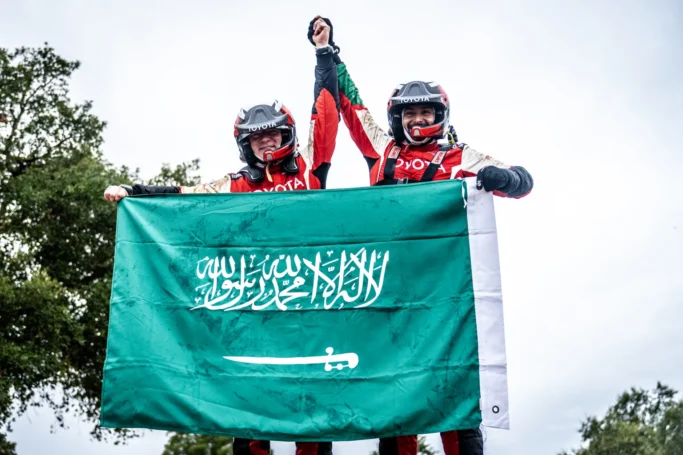 Saudi champion Yazeed Al Rajhi wins World Cup for Cross-Country Bajas title
Jeddah – Abdul Latif Jameel Motors celebrated its official partner, Yazeed Al Rajhi, after the Saudi rally driver topped the 2021 FIA World Cup for Cross-Country Bajas.
This is Saudi's first-ever victory in this competitive race and was the culmination of an excellent, consistent performance during nine rounds of the rally, which resulted in the expert rider scoring the highest number of points.
As a representative of Saudi Arabia, Al Rajhi had the honor to see his name in gold letters for the first time in the history of the World Cup alongside his Irish navigator, Michael Orr after both displayed a strong performance and historical come-back season.
The duo claimed their maiden title after a long season punctuated by an accident earlier this year. Yazeed started his season by winning Dubai International Baja's title, recording his first victory during this season before the duo suffered an unexpected accident at Sharqiyah Baja. Following clinical therapy to get back in shape and behind the wheel of the Toyota Hilux, Yazeed and Michael were then forced to skip the Jordan Baja, following the Saudi round.
Al Rajhi and Orr did not give up, both delivering the strongest come-back to make up for the missed rounds, showing determination and persistence to reach their goals and the goals of the team.
The fight for the World Cup title was fierce, especially in the European rounds, where Al Rajhi sought to regain the lead of the World Cup title after winning Baja Italia, the penultimate round of the World Cup for Cross Country Rally Baja. Ultimately, Yazeed and Michael fought back and won the World Cup title in Portugal.
Yazeed has wide experience with the Toyota Hilux in various terrains of the world, winning on the snow, in the middle of the forests, and in the vast deserts and sand dunes. Al Rajhi has proven himself in the history of the World Cup for Cross Country Rallies since his debut in 2014, the reason behind his name being linked in the world Rally-Raid.
On this occasion, Hassan Jameel, Deputy President and Vice Chairman, Abdul Latif Jameel, congratulated the racer on this achievement, and said: "Abdul Latif Jameel Motors is very proud of this national achievement in one of the world's most renowned motorsports championships and is honored to be the official partner of racer Yazid Al-Rajhi."

The new Saudi World Cup champion dedicates this victory to his country, government, and all Saudi people. He also thanked his fans around the world.
Yazeed Al Rajhi said: "I dedicate my historical victory of the World Cup title to the Custodian of the Two Holy Mosques King Salman bin Abdulaziz Al Saud, and HRH Crown Prince Mohammed bin Salman. I also thank his HRH Prince Abdulaziz bin Turki Al-Faisal, Minister of Sports and President of the Saudi Federation, HRH Prince Khalid bin Sultan Al-Faisal for their continuous support, and I thank the great Saudi people and my fans from all over the world. I am very proud to be the first Saudi to win this world title in the history of the World Cup for Cross Country Bajas."
Al Rajhi thanked his co-driver Michael, who did a great job throughout the season, and his official partner, Abdul Latif Jameel, the official distributor of Toyota Motor Corporation products in Saudi Arabia for their unlimited support and care in all his participation in the international and regional rallies. "I feel proud and grateful to be the ambassador of Saudi motorsport, and I will continue to raise our national flag in the international events, and I will continue to serve my country in chasing new achievements in the world of rallying."