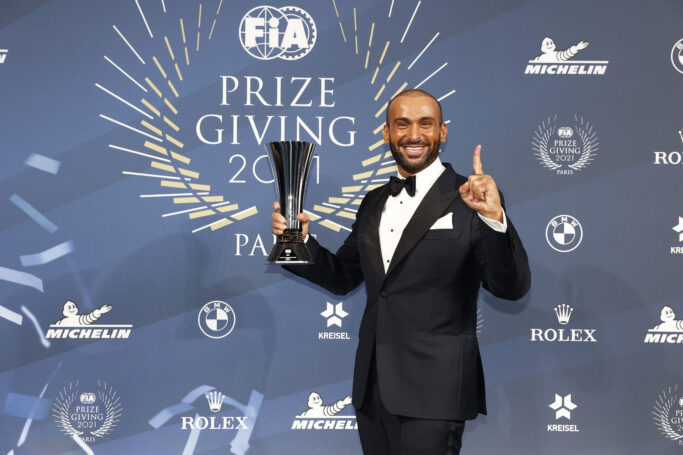 World Champion Yazeed Al Rajhi Honored at the FIA Prize Giving in Paris
Saudi Champion Yazeed Al Rajhi received his award from the FIA ​​at the Carrousel du Louvre in Paris after winning the FIA World Cup for Cross-Country Bajas title for the first time in his career.
Yazeed has carved his name in golden letters in the history of the FIA ​​as he became the first Saudi driver to win this title at the highest Class in Rallies.
The ceremony witnessed a large number of motorsport (800 guests) of heroes and rising stars who came from all over the world for a special sporting evening.
Jean Todt, ex-president of the International Automobile Federation (FIA) handed our world champion Al Rajhi the FIA ​​International prize of the World Cup in a big festive atmosphere for the crowned champions.
Winning with Toyota Hilux, Yazeed has thanks to his official sponsor of the unlimited support he gets from Abdul Latif Jameel Motors.
With this new achievement, Al Rajhi added a new accomplishment not only to his personal rally career but also to the history of Saudi motorsport, as he is the first Saudi driver to be honored internationally in the FIA for the historic achievement.
The newly crowned Saudi champion and the ambassador of Saudi motorsports was extremely happy after being honored internationally with the FIA ​​award.
Yazeed Al Rajhi: "It is great to be here tonight in between various motorsports categories winners such as Formula 1, WRC, and others.
"It was a wonderful year for us, as Michael and I faced many challenges, both psychologically and physically, especially after we had an accident at the beginning of the year.
"We overcame aches and pains to win the title and did not give up because we were striving for this historic moment and this honor did not come from a vacuum but as a result of for a great effort throughout the season, here we are today, achieving our goals for the country."
"What my team has done this year is fantastic and legendary with my co-driver Michael Orr in our Toyota Hilux fully supported by Abdul Latif Jameel Motors. I would like to thank all the team members for their support and hard work throughout the season.
Yazeed has dedicated his sporting achievement to the Custodian of the Two Holy Mosques King Salman bin Abdulaziz, his faithful Crown Prince, with the ambitious visionary, HRH Prince Muhammad bin Salman, for their unlimited support to the sports and all Saudi athletes and drivers outside and inside the country. He also thanked the Minister of Sports, HRH Prince Abdulaziz bin Turki Al-Faisal, the Chairman of the Saudi Automobile and Motorcycle Federation, HRH Prince Khaled bin Sultan Al-Abdullah Al-Faisal, the Saudi people and residents on its honorable land, and all motorsport fans ​in the whole world.