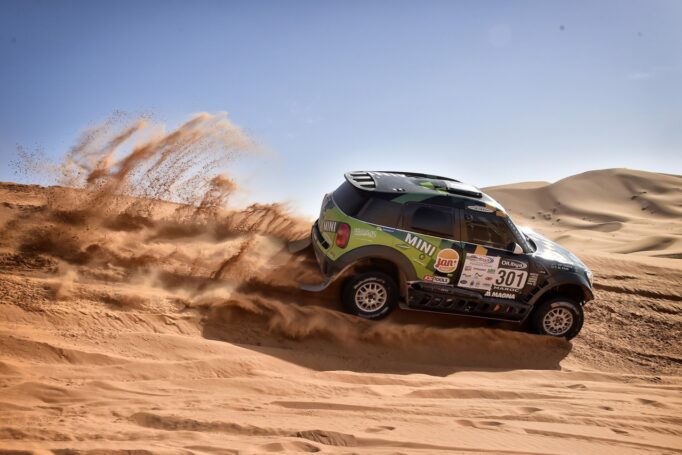 Yazeed al Rajhi and Timo Gottschalk claimed 3rd place overall of Cross Country Rally World Cup 2016
We´re pleased to share Yazeed Racing great success with you. Yazeed al Rajhi and Timo Gottschalk managed that and finished 3rd overall of FIA Cross Country Rally World Cup 2016 just one stop ahead the finish of the whole championship. Yazeed Al Rajhi and Timo Gottschalk took part in four events and it wasn´t always a clear and easy way to the podium.

Yazeed al Rajhi:
"We´re happy about our result in Cross Country Rally World Cup because we did four races this season and finished 3rd overall. That´s the unique motivation for us to continue in this series also next year. And our goal couldn´t be smaller than the same result anyway we would like to attack the highest position. We will see what the future brings but we will be ready again and stronger."

4 stops of CC Rally World Cup 2016 in a few sentences…

Abu Dhabi Desert Challenge, 2nd place:
It was a 26th edition of most historic sporting events this year in Abu Dhabi. As the second round of the series everything was bigger and better than ever. Our team was prepared excellent for this five-day fight. Everybody got the utmost respect of this rally. It is not about the fear the dunes or the heat but it is said everytime is a totally new experience for everybody. Our team gave it 110 percent and came finished 2nd at the end!

Sealine Cross-Country Rallye Qatar, 2nd place:
A total of three MINI ALL4 Racing were competing at the Sealine Cross Country Rally (Qatar). This rally was extremely exhausting for drivers and co-drivers and was important to stay focused and perfectly prepared throughout the event. Yazeed and Timo were looking to improve on their successful second place in Abu Dhabi. After their win of the final stage took solid second overall! It wasn´t quite enough to steal the overall lead but our guys were happy with their achievements.

Italian Baja 2016, 6th place:
We were heading to Italia for the podium result unfortunatelly some bad luck changed our plan. During the first day Yazeed and Timo were battling with their biggest rival Nasser Al Attiyah and finished 2nd. The next day they´ve started in a good mood after an exciting battle suffering water crossings and reaching the top of the classification. Third day was an unhappy one for our team due to a delay caused by a puncture which has destroyed the podium goal.

Rallye OiLibya du Maroc, DNF:
Another event in our racing calendar was Moroccan rally. It was a good race for our team. We were lucky and happy how Yazeed and Timo handled that through a lot of problems. During the last stage about 130 km they had a small technical issue caused they were driving very slowly back to bivouac. They have learned a lot from this race and finally they did a good test before Dakar. That´s the most important for us.

FIA Cross Country Rally World Cup 2016 – Yazeed Racing results:
Abu Dhabi Desert Challenge (03.-07.04.) – 2nd place
Sealine Cross-Country Rallye, Qatar (18.-22.04.) – 2nd place
Italian Baja (23.-26.06.) – 6th place
Rallye OiLibya du Maroc (01.-07.10.) – DNF due to a technical issue
3rd PLACE OVERALL, 92 points
Yazeed Racing FIA CC Rally World Cup 2016 – KEY FACTS:
24th season of the FIA Cross Country Rally World Cup
Our team – Yazeed al Rajhi (SAU) and Timo Gottschalk (DEU)
4 rallies (Abu Dhabi, Qatar, Italian Baja and Rallye Oilibya du Maroc) from 9 overall
2 x 2nd place, 1 x 6th place, 1 x DNF, 3rd place overall, 92 points
And now is a time to go for it and get everything ready before Rally Dakar!
Follow us!
Go follow us on Yazeed Racing Facebook, Twitter and Instagram. Thanks for your support.

Yazeed Racing
www.yazeedracing.com