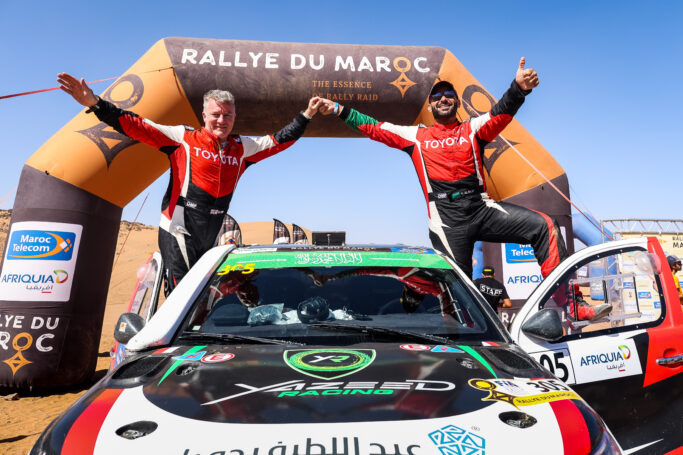 Yazeed Al Rajhi Claims Podium in Rallye du Maroc


Zagora (Morocco): The Saudi motorsport representative Yazeed Al Rajhi finished the 21st edition of the Moroccan Desert Rally, which formed the fourth round of the "Cross Country" which organized by the FIA, in second place after a remarkable performance with a total time of 16:08:08 hours aboard his Toyota Hilux.

The Saudi champion starred in all five stages of the rally after adopting a unique driving style, as he was the fiercest competitor to the rest of his colleagues to achieve the runner-up position in three stages, and Al Rajhi maintained his pace to impose control in the fourth stage to win it. One of the routes that were used in the Dakar Rally in its first chapters, specifically on the African continent.
In the past six days, Yazeed Al Rajhi and Michael Orr crossed routes characterized by sand dunes and technical routes that require navigational skills, with a total distance of 2,686 km, including 1,633.52 km of special speed stages.

The icon of Saudi motorsport, Al Rajhi, expressed his feelings of winning the podium for the desert rally, saying: "Thanks to God, we achieved second place and I am really happy to return to the podium here in Morocco, and most importantly, we were able to close the gap of the points difference in the drivers' overall standings."

The Saudi champion continued: "It was a tough and hard rally, and some of its routes were similar to the tough Dakar Rally routes. There is no doubt that there is this type of route when the organizer is led by my friend David Castera, we enjoyed this rally and our pace was very strong despite the tire problems that we still suffer from on day four [stage three] we had a broken gearbox but all these failures didn't stop us and gave us another level of competition."

Michael said: "I am very happy that we finished second in this difficult rally in Morocco. I had my first experience with Yazeed in the Cross Country two years ago here, I had no idea about the sport, I have been learning it since then. Of course, we should be happy, our level is very high as well as our pace been very good this week. We are doing a great job together in the car and looking forward to the next race.