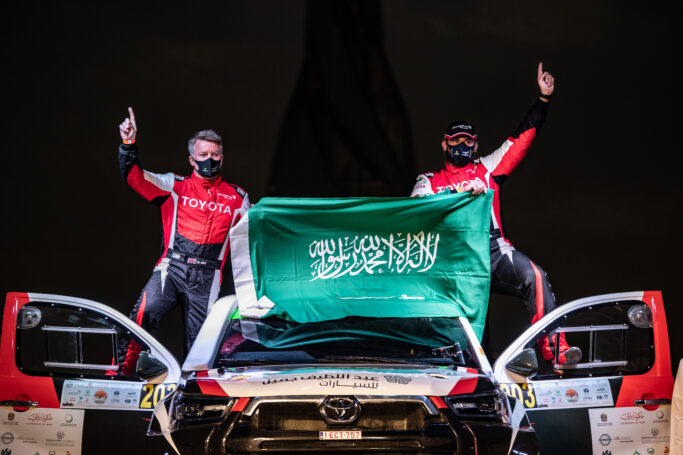 Yazeed Al Rajhi crowned the second round of the FIA World Cup for Cross Country Rally Bajas in Dubai Baja 2021
Saudi Champion Yazeed Al Rajhi and Michael Orr claimed a dominant victory on Saturday at Dubai international Baja, the second round of the FIA World Cup for Cross-Country Bajas.

Dubai (UAE): Saudi motorsport icon, Yazeed Mohammad Al Rajhi, and his Irish co-driver Michael Orr won the two selective sections of Dubai Baja ahead of closest rival Khalid Al Qassimi by 33 minutes and 49 seconds after 387 kilometers of competition behind their Toyota Hilux Overdrive wheels.

Al Rajhi managed to win the rally in his debut, however, a great start for the Saudi champion to kick off the FIA World Cup for Cross Country Bajas season from Dubai International Baja which took place at Al Qudra desert on February 18th-20th.


The duo was happy to accomplish the mission together in Dubai Baja, the second round of the FIA Cross Country Rallies Bajas with a total time of 5hr 22min 13sec and a total distance of 426,68 kilometers of stages which covered in total.

The route offered two challenging special stages which were difficult, full of sand dunes, and lack of straight sections. All these factors required very wise-full navigation.

Al Rajhi's Toyota Hilux won the challenging opening selective section of 192.23 kilometers through the UAE's Al Qudra desert with a time of 2hr 40min 57sec.
The second selective of 194.75km ran over a challenging route through the local desert as well. The Saudi Champion managed not to push harder and finish in a time of 2hr 41min 16sec to seal a first-ever win at the Dubai International Baja.


Yazeed Al Rajhi: "I'm very happy today, we've won Dubai International Baja, the second round of the FIA World Cup Cross-Country Bajas. We pushed in the first stage after we dominated the stage by a comfortable margin, in the second stage, we decided not to push harder and complete the stage slowly"

"We had two perfect days and enjoyed the rally even though the route was full of challenge going through the golden sand dunes up and down.

"We had no mistakes in navigation nor car problems, and Michael did a great job on navigation, the victory was our ally from the first day, thank God." Added Yazeed
"I'm delighted to see my co-driver Michael Orr is back by my side again as he has done an amazing performance"


I would also like to thank my strategic partner Toyota and Abdul Latif Jameel Motors for their unlimited support." Yazeed added On the other side, Michael was delighted about his first win after his return to the Yazeed Racing team he said: "It's a big pleasure to back with Yazeed Al Rajhi again"

"It's nice to start off the new season with a win, we pushed in the first stage and won but in the second stage we didn't push so much and drove leisurely"

"we made no mistakes and took the confident win" Orr added.