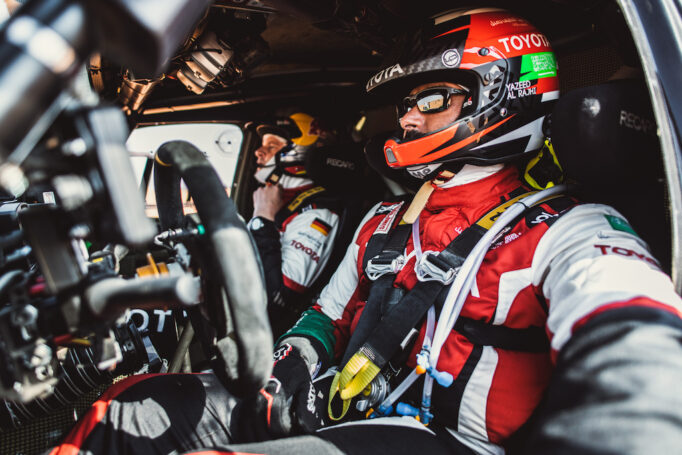 YAZEED AL RAJHI EYING SECOND KAZAKHSTAN RALLY WIN
Saudi Motorsport icon Yazeed Al Rajhi, and German navigator Dirk von Zitzewitz are well prepared for the second round of the 2021 FIA World Cup for Cross-Country Rallies, Kazakhstan Rally.
AKTAU (KAZAKHSTAN): Saudi motorsport icon, Yazeed bin Mohammed Al Rajhi, and German co-driver Dirk von Zitzewitz are set to participate in the second round of the 2021 FIA World Cup for Cross-Countries Rallies, Kazakhstan Rally which will take place at Aktau city, southwest of the country on June 8th-13th.
The Saudi Motorsport Ambassador, Al Rajhi is looking forward to the second win in Kazakhstan Rally alongside Zitzewitz as Michael Orr is not ready for his return yet over the recent accident in Baja Sharqiya last March. 
Yazeed and Dirk are agitated to compete in Kazakhstan Rally after astonishing European round in Spain, Andalucía Rally, as both will be together again in Kazakstan Rally since 2019.
The Kazakhstani Rally is back this year on the calendar after it was canceled due to the Covid-19 pandemic in 2020 but nevertheless, It will mark its fifth year since it became a round of the FIA World Cup for Cross-Country Rallies.
The Rally will offer a marathon night this year between stage 2 and 3 from Aktau to Kenderly (230 km – the distance in between) among 5 special stages as Al Rajhi and Zitzewitz will tackle a route total that stretches over 2,270km, 1,465 km will be competitive distance on 80% of sand and 20% of dunes.
Yazeed Al Rajhi: "I'm happy to return to central Asia to participate in Kazakhstan Rally which is considered one of the unpredictable rallies at the end of the day."
"I won here in 2018, and we are looking forward to a rally full of excitement and enthusiasm, It's another challenging and difficult rally although most of the routes are sand and it's one of the best suited for our car as I also would like to thank my strategic partner Toyota and Abdul Latif Jameel Motors," Yazeed added.
"Michael Orr will not be with me in this mission as he still recovering from his injury and I'm wishing him the best of luck to bounce back again with us soon. Dirk will replace him in Kazakhstan"
The German is more than excited to be alongside our Saudi hero in this round after Andalucía Rally as well, he said: "The first season I have started to navigate Yazeed was 2019 and Kazakhstan was one of the rounds we have been together through. We have an unforgettable moment in Kazakhstan 2019 as we won 3 stages together in Toyota Hilux and I hope we win this Rally"
"Kazakhstan has a beautiful landscape and great geographical location next to the Caspian Sea. I really looking forward to continuing the great work we did in the last rally [Andalucia Rally]."
"I think it will be a very strong competition with other teams and drivers, It's not an easy task. A big battle ahead of us."