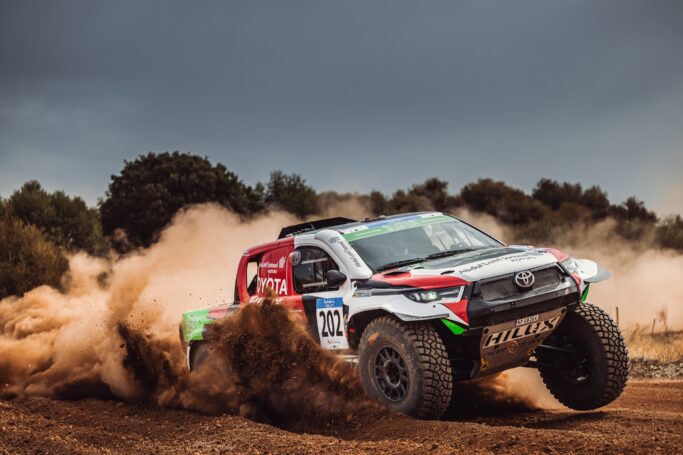 Yazeed Al Rajhi is looking forward the continuing his high performance in the Rally Andalucia
Dos Hermanos (Spain) – Saudi world driver Yazeed bin Mohammed Al Rajhi is preparing to take part in the final round of the FIA World Rally-Raid Championship (W2RC), the third edition of the Andalucia Rally, which will be held from 19 to 23 October in Dos Hermanos city, province of Seville within the Andalusia region in southern Spain.
Due to a heat wave that swept across Europe, including Spain, which caused fires, the Andalusian Rally, which had been scheduled for June, had been postponed to this October due to the severe heat wave.
It is the only European round of the FIA World Rally-Raid Championship (W2RC) calendar, and it begins on Wednesday with a qualifying stage to determine the starting positions.
The total distance of this year's edition of the Andalusian Rally is 1952 km, including 1212 km, as the total distance of the special stages is divided into 5 selective stages starting from the province of Seville, specifically in the city of Dos Hermanos, which is the central point during the entire race, passing through the province of Cadiz, the province of Malaga and the province of Huelva.
Al Rajhi, who is in third place in the championship standings, is looking to finish in second place, with Sebastien Loeb in second place ahead of him, but with a difference of only 22 points.
The Saudi champion, Yazeed who has a great mix of experiences and skills, expressed his eagerness for winning the Andalus Rally, saying: "I am looking forward to winning the Andalucia Rally, we had a great season and really impressive results this season. We started at the Dakar Rally and I finished in third place, which is a historic result for a Saudi driver.
The Saudi champion added: "Andalucia Rally is the final rally of the long-running rally championship this season and I want to finish it in the top positions. As a team, we have been doing very well since the beginning of the season and we will continue to do our great job until the last stage."
Al Rajhi continued: "This season, everything was different and new for us, as well as the new regulations. Our new Toyota Hilux T1 + car presented a great and mighty performance, and the battle for the "Top Three" is still ongoing to earn the most points until the end of the last stage next Sunday.
Thanks to God, we have excelled this season, and I hope God will seal it with success and safety for us."
During his brilliant and successful journey around the world, Yazeed extended his sincere thanks and gratitude to his official partner Abdul Latif Jameel Motors.
In his words, Al Rajhi said: "I extend my heartfelt thanks to my success partner, God first, and then to the efforts of all members of my official partner Abdul Latif Jameel Motors for their continuous support of me and my team, wishing God more victories and world championships."