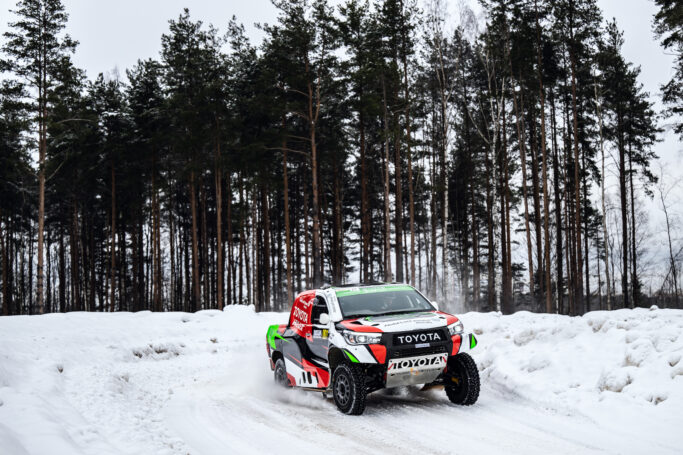 Yazeed Al Rajhi is ready to defend his title in the first round of the World Cup for Cross Country Bajas 2022
Saint Petersburg (Russia): Reigning World Cup champion, Yazeed Bin Mohammed Al Rajhi is well prepared alongside his Irish co-driver Michael Orr for the opening round of the World Cup for Cross Country Bajas, which will be hosted in the Northern forest of Russia in its 18th edition between 11-13 February.
The defending champion, along with his co-driver Michael, will run the Baja's total distance of 600 km on snow-covered tracks, while the total distance of its special stages will reach 387 km, over two days with a total of 9 special stages.
The reigning champion seeks to continue achieving his goals for the new season and defending his world title, which he achieved last year in a Toyota Hilux by Abdul Latif Jameel Motors and prepared by Overdrive.
The Saudi motorsport ambassador, armed with extensive experience in snowy tracks, also hopes to repeat the 2014 achievement in his debut in the cross-country rallies with the Overdrive team, when he won Baja Russia – Northern Forest, which represented the opening round of the cross-country rallies at that time, in a Toyota Hilux.

The snow-covered tracks are not new to the titleholder, Al Rajhi who had previously won the Swedish Rally in 2013 when he was a competitor in the "WRC" World Rally Championship, the son of the desert has proved his ability to excel in all weather conditions in different rallies around the world regardless the difference of the type of the car and the driving style adopted.

Yazeed Al Rajhi who recently claimed Dakar Rally podium as the first Saudi to achieve a third-place position in T1, said: "We headed to Russia to participate in the Baja Russia – Northern Forest, which is the second participation for me in this Baja in my career.
"I have fond memories in Russia, I won the snowy Baja Russia in my first cross-country debutant with a Toyota Hilux 8 years ago. I love racing in the snow it is very fun and full of adventures, I remember when I won here with the Overdrive team, it was a great moment that I can't forget because it was my first season in cross-country rally and I won the first round, now all we have to do is to adopt the right strategy for Russian snowy Baja to win the first round of the new season."
Al Rajhi expressed his special thanks to the official partner and exclusive agent of the Japanese Toyota International Motors Company in the Kingdom of Saudi Arabia, Abdul Latif Jameel Motors, for their support and sponsorship of him in his participation in international and regional forums.
On his part, Michael expressed his preparations for Baja Russia, he said: "This will be the first time that I will participate in a snowy Baja in the Cross Country Baja with Yazeed. The driving style is different from the hatchbacks in the "WRC" Yazeed and I have a long experience before in snow in the World Rally Championship It will be a new experience for me with my friend Yazeed."
A new start, a new season, and a whole new car. Yes, we have all the winning factors and we are fully prepared."