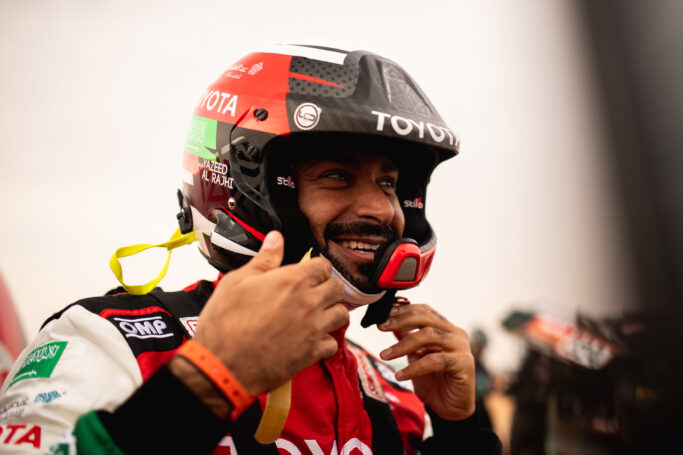 Yazeed Al Rajhi is well prepared for World Cup Cross Country Rally Baja


Saudi driver Yazeed Al Rajhi and his Irish co-driver Michael Orr are ready to take on the challenge of Dubai International Baja

Dubai (UAE): Saudi motorsport icon, Yazeed Al Rajhi, and Irish co-driver Michael Orr is set to participate in the second round of the 2021 FIA World Cup for Cross-Country Bajas, Dubai International Baja which will take place at Al Qudra desert on February 18th-20th.
The duo is excited to compete in Dubai Baja, the second round of the FIA Cross Country Rallies Bajas will offer a total distance of 426.68 competitive kilometers out of 387.18 km divided into two challenging special stages in terms of navigational.
Michael Orr is back as the co-driver for Yazeed Al Rajhi in Dubai International Baja replacing the German co-driver Dirk von Zitzewitz who joined the team since Andalucia Rally last year after his accident.

Previously, Al Rajhi and Orr participated together in many different categories of local and international rallies since 2011. Regarding the rally raid races, Michael came back as a navigator to Al Rajhi in 2019, and both won the first edition of the Saudi Toyota Desert Rally Championship in 3 rounds out of 4 rounds.
The Saudi champion is looking forward to competing in his debut in Dubai Baja 2021 behind the wheels of his Toyota Hilux Overdrive. Nevertheless, Yazeed thanks his strategic partner Toyota and Abdul Latif Jameel Motors for their unlimited support.
Yazeed Al Rajhi: "Our next stop is the second round of Cross Country Baja, it will be my first time to participate in Dubai Baja and I'm excited to get back behind the wheels, I'm really looking forward to a great race"
"I'm delighted to see my co-driver Michael Orr is back by my side, and we're ready for a new and exciting experience in Dubai"
"Our spirits are high, and we're fully prepared for a very challenging desert rally in terms of navigation. We will do our best for this mission to be complete in an astonishing way" Besides that, Michael is delighted about his return to the Yazeed Racing team he said: "It's fantastic to come back with Yazeed.

"It's like coming home. I look forward to building a lot of success together"