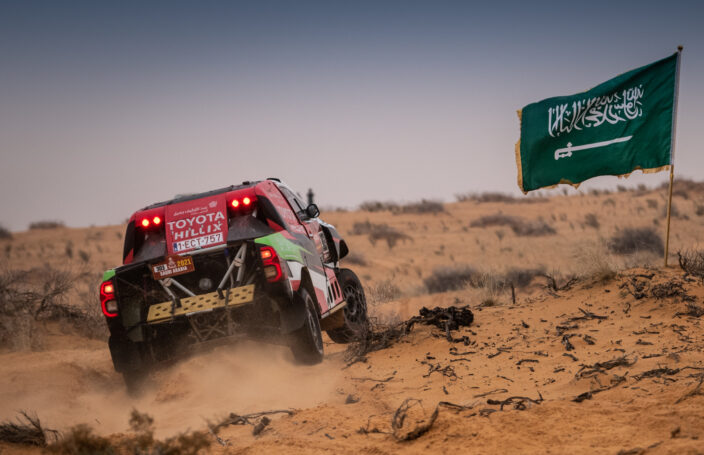 Yazeed Al Rajhi leaves a historical imprint in Dakar 2021 by winning two home stages
Saudi driver Yazeed Alrajhi and German co-driver finished the 43rd edition as luck was not on their side
Jeddah (Saudi Arabia): Saudi motorsport icon Yazid Al-Rajhi left a historical imprint in the second edition of the Dakar Rally in Saudi Arabia after winning two stages in Dakar Rally 2021 in his Toyota Hilux and becomes the first Saudi and Arab to win on home soil in his class and the youngest contestant to win a stage from Dakar this year.
Al Rajhi along with co-driver Dirk Von Zitzewitz of the Overdrive Toyota team managed to win the seventh stage victory between Hail and Sakaka, which was considered the most difficult stage in the Dakar Rally as it was a marathon stage with a time of 04:21:59 hours.
The duo won a unique stage for their second victory stage 10. Al Rajhi crossed the finish line of the tenth stage with only three tires on. The stage was held between Neom and AlUla with a total distance of 583 kilometers, 342 kilometers of the special stage.
However, Yazeed had previously won a stage in the Dakar Rally scoring his maiden stage win in a spectacular sand dune finish in the eighth stage of Dakar and became the first and youngest Arab driver to win with the Japanese manufacturer Toyota in T1.
Countryman Yazeed Al Rajhi has performed a remarkable prologue stage of the Dakar Rally, he scored the second-fastest time at that stage, but luck was not an ally of the Saudi champion from the first part of the rally as Yazeed and Dirk had a Gearbox failure in stage 4 which made them lose a significant time and Dakar 2021 title.
Alongside the technical issues, Yazeed and Dirk have been suffered many tire punctures since the first stage such as their colleagues in Toyota, around 25 pictures sine first stage due to a manufacturing defect from the American manufacturer BF Goodrich.
However, the irresistible driver, Yazeed pushed and tried his best in the second part of the rally, where he was able to win two stages of the Dakar Rally at home, in fact, Yazeed was very close to triumph his third until disaster struck with an engine failure which made the car stopped just a few kilometers from the finish line.
12 though days and 7,646 kilometers across the rich tapestry of landscapes in Saudi Arabia, that's how the team finished the Dakar Rally in fifteenth place in the overall standings.
Yazeed Al Rajhi: "We finished the Dakar Rally 2021.  We have done our best, and we have pushed since the first day even though we have suffered more than 25 tire punctures in addition, gearbox failure the last dilemma was engine failure in the last stage. We drove perfectly and won two stages at home. I am proud of this achievement, and without the obstacles we faced, we would compete for the title."
The Saudi champion extended his sincere thanks to the official sponsor Abdul Latif Jameel Motors, who accompanies him during all his participation in his rally career.
Al Rajhi also expressed his happiness for the Kingdom of Saudi Arabia's achievements by hosting the international event, Dakar Rally for the second year in a row, expressing his pride and the efforts of the wise leadership and sound vision, saying: "I thank the Custodian of the Two Holy Mosques King Salman bin Abdulaziz Al Saud and His Royal Highness Prince Mohammed bin Salman, Crown Prince of hosting and succeeding the Dakar Rally 2021 in such condition of the Covid-19 pandemic. Al Rajhi added: "I also thank the Minister of Sports, his Highness Prince Abdulaziz bin Turki Al-Faisal, and President of the Saudi Automobile and Motorcycle Federation, his Highness Prince Khalid bin Sultan Al-Abdullah Al-Faisal, for their great efforts and constant interest in our beloved sport."
12 Responses to the post: