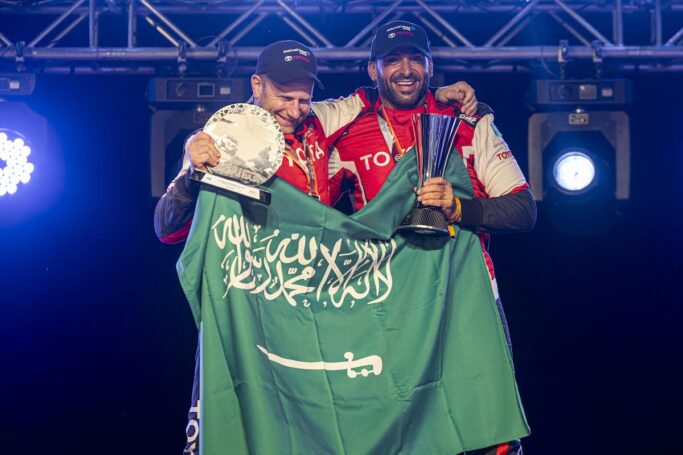 YAZEED AL RAJHI OVERCOMES CHALLENGES AND SECURES SECOND PLACE IN WORLD CUP
Dubai, UAE: Saudi Rally driver and two-time World Champion Yazeed Al Rajh, has achieved an impressive feat by securing the second position in the 2023 World Cup for Cross-Country Baja. The event concluded its final rounds in Dubai, United Arab Emirates, over three days from November 10 to 12, organized by the Fédération Internationale de l'Automobile (FIA).
Yazeed Al Rajhi showed outstanding performance and faced challenges, especially the injury he suffered at the beginning of the year. He overcame the setback of missing two crucial rounds of the calendar (Baja Hail and Baja Qatar), and his season in the championship was full of excitement and determination. Despite winning the World Cup title the past two years in a row, this season presented new challenges for the Saudi champion, making it a unique and challenging experience.
Al Rajhi outperformed his Argentinean counterpart, Juan Cruz Yacopini, who was his closest competitor throughout the season in the World Baja Championship. The difference between them was just one point before the start of Baja Dubai.
Following his recovery from the injury, the determined Saudi driver, Al Rajhi, faced a challenging journey odyssey encompassing the six-round schedule of the World Cup championship, out of a total of eight rounds. Al Rajhi, accompanied by his German navigator Timo Gottschalk, commenced the journey from Baja, Italy, where he clinched a remarkable victory, winning his fourth title there after his absence in Hail and Qatar. Progressing through the European Bajas, before he concludes his campaign in the deserts of Dubai, Yazeed subsequently took part in Baja Aragon in Spain and wrapped up his involvement in the Baja Portalegre 500 in Portugal, securing a podium finish with a second-place achievement, a milestone in his career in this particular event.
It is noteworthy that the round in Poland posed a scheduling conflict for Yazeed and numerous participants, leading to their inability to compete as it coincided with the Argentina round (Rally Desafío Ruta 40), a round of W2RC. Furthermore, the Jordan round, initially planned as the concluding event, faced cancellation news in October.
Reflecting on these challenges, Yazeed Al Rajhi says, "This season presented genuine challenges. Despite not clinching the title, my journey was filled with lessons and growth. The injury didn't lead to despair but served as motivation for improvement and excellence. I remained committed to overcoming all these challenges and shining, regardless of the difficulties."
"Missing the Hail and Qatar rounds was disappointing, but my resolute decision to join the remaining races was pivotal. I secured my fourth consecutive victory and continued to compete fiercely in the remaining rounds, culminating in a remarkable conclusion in the deserts of Dubai."
I extend my gratitude to my team and navigator, Timo Gottschalk, for their dedication. A special thank you goes to my official partner, Abdul Latif Jameel Motors, for their unwavering and generous support in my participation across international, global, and local sports arenas. Anticipating a bright future and renewed triumphs, I express our deep appreciation for the consistent backing and trust from our sponsors.
Securing the second position has left a positive imprint on my career, and I eagerly anticipate future challenges. Thanks to fans worldwide for their morale-boosting support. We'll meet you next season with fresh enthusiasm and ambitions, striving for more success together."
Al Rajhi anticipates the upcoming seasons with optimism and determination, reaffirming his aspiration to make a strong comeback and reclaim his distinctive title.