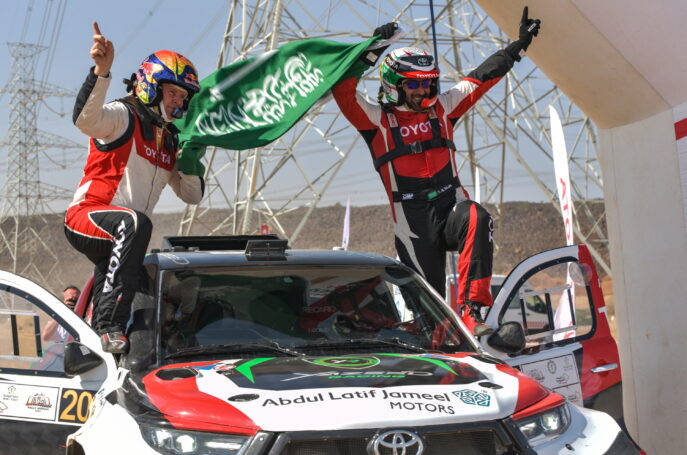 YAZEED AL RAJHI SEALS SAUDI TOYOTA RALLY CHAMPIONSHIP TTLE FOR THE SECOND TIME AFTER WINNING ALL ITS ROUNDS THROUGHOUT THE SEASON
Rally Jeddah (Saudi Arabia): Yazeed Bin Muhammad Al Rajhi won the second edition of the Saudi Toyota Desert Rally Championship for the second time on Saturday. Al Rajhi managed to finish first on all selective stages of Rally Jeddah.
The fourth and final round of the Saudi Toyota Rally Championship was organized by the Saudi Automobile and Motorcycle Federation (SAMF), in conjunction with the Ministry of Sport and in partnership with Abdul Latif Jameel (ALJ) Motors. The event was held under the patronage of the Governor of Jeddah, His Highness Prince Saud bin Abdullah bin Jalawi.
Al Rajhi won the Saudi Toyota Championship alongside German navigator Dirk von Zitziwitz, who participated for the first time in the Rally Jeddah. The Toyota Hilux, which is preparing for the fourth Dakar Rally after just ten days, set the fastest times in all three selective sections of the two LEGs. Yazed and Dirk covered a total rally distance of 737 km in the race.
Saudi Champion, Al Rajhi, dominated all of the selective sections aboard his Toyota Hilux accompanied by Dirk von Zitziwitz, the navigator that has ridden with him since the Aseer Rally replaced Michael Orr, who was injured in Baja Poland and is still recovering.
This season, Zitziwitz accompanied Yazeed in the various championships in which Al Rajhi participated, succeeding Michael Orr who is still recovering from his injury in Bahia Poland.
A whole range of challenges faced Al Rajhi and his co-driver throughout the season, but he would like to thank Dirk von Zitziwitz for his outstanding efforts, as well as Abdul Latif Jameel, the distributor for Toyota Motor Corporation products in Saudi Arabia, for his unreserved support at the international and regional rallies.
Al Rajhi expressed his happiness with this achievement and said: "By the grace and praise of God, we were able to snatch the title of the Saudi Toyota Championship for the second time, and this time in Jeddah, which hosted the season finale."
"In fact, we spent three wonderful days and enjoyed the rally and the varied track layout between open tracks, gravel, and dunes, and this is something that makes us proud of the diverse terrain of our country, which has become more famous around the world through the media since hosting the first edition of the famous Dakar Rally in 2020."
"Everything happened beautifully. We won the Saudi Rally Championship and finished the season in the most efficient possible way. I won the Jeddah Rally for the third time in my career and the first time in a Toyota Hilux. We also won all the special stages of all rounds of the Saudi Championship."
Today, I feel very proud of the achievements I am making for my country.
"In the 2019 season, when I competed in the first edition of the Saudi Toyota Championship, I won its title with Michael Orr, and today I won with Dirk von Zitziwitz, and Dirk performed amazingly in this task and the whole season. The victory was ours from day one,"